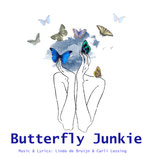 Verse 1
It has been months since we met,
Wish I could forget
The way you made me feel
I think of your laugh and I dwell
Dreams hurt like hell
When I close my eyes
Pre-Chorus
I shouldn't miss you, but I do
Chorus
I've become a butterfly junkie
Need those butterflies within
I've become a butterfly junkie
You should see the state I'm in
I'm addicted to what has been
My memory is slowly killing me
I've become a butterfly junkie
Verse 2
We poured our hearts out 'til late
Walked the streets at night
Under Paris lights
Can't let go how good it felt
When you held me close
Got an overdose
Bridge
Can't I just stay in lost paradise
and keep them all inside
They already booked my rehab retreat
So hard to release these butterflies
Music & Lyrics: Linda de Bruijn & Carli Lessing
Production: Piet de Wet
---
Verse 1
You were an angel from the start, aiming arrows at my heart
We walked by the riverside, under a sapphire sky                                                                       
And your hazel eyes took me straight to cloud nine
So tell me, Cupid, does that make you proud?
Chorus
I was a fool to believe you would need me
Dreaming to think you could even love me
I fell so far
I fell so far 
Out of love     
Verse 2
Too soon the sky was turning grey, lightning chasing dreams away
I could've fought, could've tried, the day I saw through your lies
Like painted rivers, the tears on my face
So tell me, Cupid, does that make you proud?
Bridge
You never gave me anything
Held back your heart, no diamond ring
Strung me along and called me baby
But you meant maybe from the start
Lyrics and music: Linda de Bruijn & Carli Lessing
---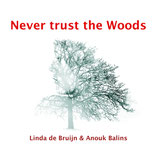 Intro
Do you know the pasture land under the smoke of Amsterdam?
Are you from the villages embraced by the woods, then listen to me close
Chorus
You must, you must, never trust the woods
You might think about the ones that went in and never came out
Verse 1
On Sunday Henry was strolling about, 
taking off his hat for the new girls in town
Later, one of the girls declared, he went straight for the woods
Chorus
Verse 2
Cousin Annie was searching for berries and nuts
Like a nutter she traced the glittering ground
Her broken basket was found, somewhere, deep in the woods
Chorus
Verse 3
Little Harry was bored in the middle of the week.
Big trees were calling in to play hide and seek. 
Only the birds heard the shrieks that came from the woods 
Chorus
Verse 4
When wind rang the bluebells and I was playing 'round.
A lovely smell kissed the tip of my nose. 
I left my toys at the playground and ran off to the woods.
Chorus
Outro
The woods went silent when the police came to search her deadly pond
They looked for us all, but none of us was found. 
Chorus
Never trust the Woods is a murder ballad based on a true story that took place in the 1940's.
Lyrics and music: Linda de Bruijn & Anouk Balins
---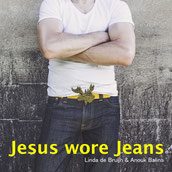 [Chorus]
Verse 1 
Light was dimming when he knocked on the door 
A halo of summer surrounding him 
Diamond smile and snow white shirt 
When he kissed me, felt my life begin 
Whispering words took over my mind 
He was such a smart talker 
Made me miss all the tell-tale signs 
You'd believe him walk on water
Pre 
Oh, his tricks made me lose track of time
[Instrumental]
Chorus
I believed 
My Jesus wore jeans 
But from his hands 
No mercy or grace 
His Holy Land 
Was an empty place 
Still, I believed 
My Jesus wore jeans
Verse 2 
Night was falling when he asked me for more 
His halo slipped, so I showed him out 
He cast no shadow when he walked the street 
And his blessing I could do without 
Pre
Oh, his tricks made me lose track of time
[Instrumental]
Chorus
Music & Lyrics: Linda de Bruijn & Anouk Balins